Sample Station within your reach
Over 100 painted samples & wall display with 940 shades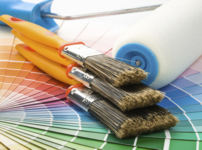 Interior Works
Bringing you a wide variety of unique international decorative products
Rodoco Interior Works brings you a wide variety of unique international decorative products to suit your needs. We provide recognized brands that are world-market leaders in the manufacturing of design sheets for the whole interior decoration and design sector, for you to use in many ways.
Rodoco Interior Works also offers you a wide choice of high quality international products that could be used to embellish your house, office, or even organization, such as wallpaper, blinds, stretch ceiling, floor coverings, curtain glass, gypsum board, and many other finished and technical solutions.
- Wallpaper
- Blinds (regular and innovative automatic controls of opening and closures)
- Stretch Ceiling (innovative and unique interior layouts and decoration solutions)
- Floor and Wall Coverings (provided by well-known experienced companies in cooperation, offering the best European products)
Hardwood floor
Laminate
- Commercial Flooring Solutions: For Professional Applications
Contract flooring
Sports flooring
SPM Wall protection and handrails
- Curtain Glass: For balcony and side glass enclosure solutions against noise, rain and wind)
- Gypsum Board: Rodoco provides international brands for decorative easy-fit mouldings, skirtings, and ceiling centers. The different products available offer solutions for the house and around it, industries and packaging, and even for leisure and gardens.
- Finished and Technical Solutions: Maintenance, repair, and operations