Sample Station within your reach
Over 100 painted samples & wall display with 940 shades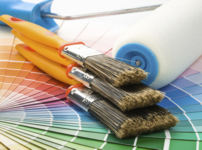 About Us
Company profile and overview
Rodoco Group, Salim Badawi & Sons, is located in the heart of Koura region, Amioun, and is managed and owned by experienced professionals in the industry. We try to fit the market's requirements as much as we can with the most efficient and effective products and services in the industrial and building markets.
We started in 1969 as a family business and grew over the years by expanding its product lines to different architectural, industrial and decorative products.
We provide a wide range of product categories and a large selection of choices. You can find construction and building materials, paint, tools and hardware items, architectural and finishing decorative products ranging from wallpaper, flooring designs, gypsum boards, and stretch ceilings to parquet. We also offer waterproofing and repair solutions, as well as concrete and admixture products. We also specialize in all safety products and uniforms.
In order to provide total customer satisfaction Rodoco has focused on providing the best quality products and services to all its customers, with very competitive prices.
Feel free to visit our new showroom to get a better idea about the products and services we offer suiting your taste and budget. We look forward to be part of your future projects, offering you the most punctual and accurate services.